Welcome to Annie Zavagno's webpages
I am a full professor at Aix Marseille Université (AMU) and Senior member of the
Institut Universitaire de France
. I do my research at
Laboratoire d'Astrophysique de Marseille
(LAM) where I am member of the GECO research team.


My research concerns the formation and impact of high mass stars. I am interested in the way high mass stars impact their surroundings and might favor the formation of a new generation of stars. I study high mass stars with multi wavelength and multi scale observations with ground and space based telescopes with expertise in the infrared and millimeter domains. My current research projects focus on the small (milli parsec) to intermediate scale (parsec) impact of high mass stars on their surroundings.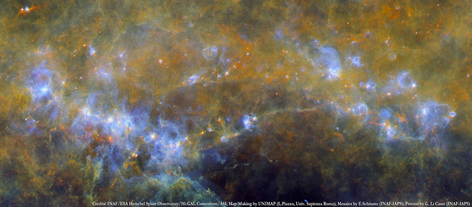 Program presentation (in french) Les étoiles massives ont un impact majeur sur leur environnement et contrôlent ainsi l'évolution des galaxies. Pourtant les mécanismes qui conduisent à la formation de ces étoiles sont encore débattus. Des sondages récents de notre Galaxie, en imagerie et en spectroscopie, révolutionnent notre vision de ce phénomène. Pour la première fois nous pouvons suivre leur cycle complet de formation. A partir d'une approche multi longueur d'onde et multi échelle, j'étudie ce cycle en incluant les effets de rétroaction de ces étoiles sur leur environnement, effet dont nous venons de démontrer le rôle central de déclencheur pour la formation stellaire à venir. Le but de ce projet est d'obtenir une estimation précise du taux de formation stellaire, paramètre-clé des modèles d'évolution des galaxies.